Welcome from President Birge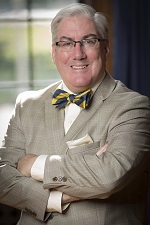 Greetings and welcome to Massachusetts College of Liberal Arts (MCLA). As the College's newly appointed 12th President I am excited to be part of such a wonderful institution that offers an abundance of opportunities for our students. At MCLA value is an essential component of what we offer our students and can be measured in many ways.
First and foremost, the academic experience at MCLA empowers and prepares our students to deal with complex and diverse issues while pursuing in-depth achievement in a specific field of study. Students engage in a wide range of opportunities both in and out of the classroom while they learn from the best, MCLA's faculty.
MCLA's website is designed to provide you with an overview of our College and to assist you in discovering the fantastic things about our community and the opportunities that await you.
Whether you are starting your academic career for the first time, continuing your work as a transfer student to complete your undergraduate degree, or returning for graduate studies, MCLA has a range of academic programs to respond to your needs. Learn more about the academic programs we offer.
We are proud of the students we have educated and who have gone on to be successful in their careers. With more than 18,000 alumni, MCLA students have access to a network of alumni in the fields of business, the arts, education, health care, and science. See the work some of our alumni have accomplished by watching their stories.
Although our website offers much information about MCLA, it is no substitute for meeting MCLA's most important asset—the people of MCLA.  If you want to learn more about this vibrant academic community, please plan a trip to MCLA and talk with our faculty, admissions representatives, and student leaders. Arrange a visit us here.
Once again, welcome to MCLA and I look forward to seeing you on campus.
James F. Birge, Ph.D.
President