Wee Read Berkshire County
Each April, the Berkshire United Way's Early Childhood Impact Council collaborates with early childhood education providers and the libraries of Berkshire County to offer Wee Read events. The initiative is designed to promote the importance of early childhood literacy and reading to children.
This Building Readers pamphlet outlines strategies on how to get your child ready to read:
The video below provides a great demonstration on how to engage a young child in books:
Tuesday, April 22 at Berkshire Botanical Garden in Stockbridge, 10:30-11:30 a.m.
Thursday, April 24 walking tour of Lenox (meet at Lenox Library), 11:00 a.m. - 3:00 p.m., with live readings at 11:30 a.m & 2:00 p.m.
Friday, April 25 walking tour of Great Barrington (meet at Subway on Main St.), 10:00 - 11:30 a.m.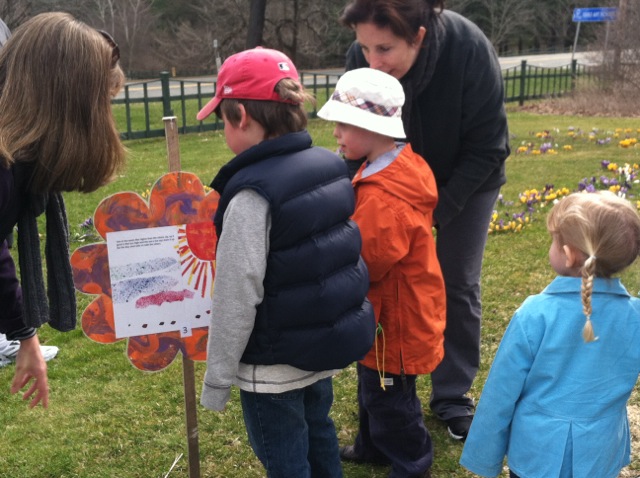 This April vacation, come enjoy Storywalk events in Southern Berkshire County. All are free and open to the public!  Readers begin at page one of the chosen book. Whether walking, skipping or leaping to the next posted page, readers will follow the story accented by colorful pictures. The two-page spreads are posted over the course of the "walk" and end with a live reading and craft. Registration requested but not required. Please contact 413-528-0721 or familynetwork@chpberkshires.org
The StoryWalk® Project was created by Anne Ferguson of Montpelier, Vermont and developed in collaboration with the Vermont Bicycle & Pedestrian Coalition and the Kellogg-Hubbard Library.
Reading events revolving around the book "The Tiny Seed," by Eric Carle took place throughout Berkshire County. We distributed 1,500 copies of the book to children at StoryWalks and other special events, along with a customized bookmark featuring family reading tips. This program built upon Pittsfield's Wee Read initiative as well as other early literacy programs that have been developed throughout the Berkshires. 
---
Wee Read Collaborating Organizations:  

Berkshire Compact for Education
Massachusetts College of Liberal Arts
Berkshire Athenaeum and the libraries of Berkshire County
Berkshire County Head Start
Child Care of the Berkshires
Pittsfield Public Schools; Pittsfield Wee Read
The Community Health Programs Inc.
The Berkshire United Way's Early Childhood Think Tank
The Coordinated Family Engagement Coordinators of North County, Pittsfield, Central Berkshire and South County
Berkshire Children and Families
2013 Funding Organizations:
Berkshire Compact, MCLA
Berkshire Taconic Community Foundation
Friends of the Berkshire Athenaeum
Childcare of the Berkshires