Cultivating Tomorrow's Leaders.
Overview: YLP seeks to develop young individuals to be the next generation of community leaders; preparing them for constructive and responsible involvement in community affairs, while also thinking seriously about career pathways. Students apply during the end of their Sophomore year and begin the program in the summer going into their Junior year.
Throughout the 10-month program, students explore our community – its resources, leadership, issues, and opportunities. They share ideas and learn what it takes to become a consensus builder and effective decision-maker. Participants examine the functional areas of business and the career pathways found right here in their own backyards. They explore civic responsibility and the various roles they can play in their communities to inspire a life-long commitment to the Berkshires.
YLP in the News: The Berkshire Eagle covered YLP activities in 2016.
Partners: YLP is sponsored by Berkshire Bank, Greylock Federal Credit Union, and Cohen, Kinne, Valicenti & Cook. In addition to the Berkshire Chamber of Commerce, partners include The Berkshire Compact for Education, Massachusetts College of Liberal Arts (MCLA), Berkshire Community College (BCC), the county's high schools and many local employers. YLP is one of the milestones on the Passport to Education, which comprise a path of educational opportunities leading to higher education.
Program Structure and Calendar:  YLP begins in the summer going into junior year with a weekend retreat held at either Williams College or MCLA.  Professional facilitators work with the students to build a sense of community, set personal goals and explore their leadership styles.  During the school year, participants attend monthly half-day sessions held at the workplace of local employers.  
Past Projects: Students in the 2011-2012 class of the Berkshire Youth Leadership Program were given 20 minutes to produce a series of short videos on topics that were assigned to them. This project was part of a session about the creative economy and media industries, held at Interprint Inc.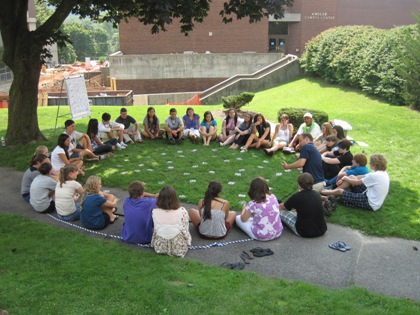 Watch the videos on You Tube:
Group 1: Social Media
Group 2: YLP Clothing Drive
Group 3: All About the BYLP
Group 4: Careers in the Berkshires
Group 5: Higher Education
Videos were produced by PCTV. YLP is a program of 1Berskhire.