Certificate in Principles of Accounting
Now Accepting Applications for Fall 2020!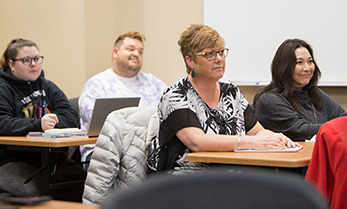 Description of program: The Accounting Certificate is ideal for small business employees, those in career transitions or interested in building professional credentials.  Aspiring bookkeepers and entrepreneurs will also receive academic benefits from this certificate. 
The program emphasizes skills using MS Excel, QuickBooks, and skills employers are seeking. The program may be completed in just over one year for students attending half-time. All courses in the certificate are eligible for transfer to MCLA's Business Administration degree if graduates decide to pursue the degree. The program is an alternative for students who may not be seeking a degree or CPA-preparation. Experiential, hands-on learning will be included in the program.
Credits: 21
Credits may be transferable for higher-level accounting certification and undergraduate programs, depending upon the transfer policies of the receiving institution.
Anticipated courses
BADM 110 – Information Technology for Business
BADM 224 – Financial Accounting
BADM 225 – Managerial Accounting
BADM 320 – Accounting Systems
BADM 335 – Federal Taxation – Individuals
BADM 340 – Financial Management
ECON 142 – Microeconomics
Financial aid and Program 
Courses for this program will be offered at MCLA-Pittsfield in fall 2020

Students in these programs may also qualify for federal financial aid in the form of loans and Pell grant opportunities.  

To apply for the program please complete the online application and submit your high school or college transcripts with an updated resume.
---