MBA Admissions Process
Required Credentials
Bachelor's degree from an accredited institution*
Five years of relevant business or professional experience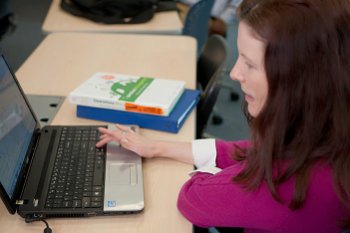 $75 application fee (non-refundable) 
Official college transcript(s)
Professional Resume
Personal statement
Three professional letters of recommendation
Transfer credits are accepted up to a maximum of six (6) credit hours for core courses with grades of B or better and must be no more than five years old, taken at an accredited institution. 
*An undergraduate major in business is not a requirement.  The program requires 45 credits of graduate business courses. Credit waivers may be available for those students who already possess an undergraduate business degree. 
** Applicants will be considered for admission without GMAT scores provided the applicant possess an advanced degree with quantitative content (e.g. master's, doctorate, etc.) or a minimum undergraduate GPA, combined with at least five years of significant professional experience (typically post-baccalaureate) and a personal interview with the MBA Admission Committee.  The committee reserves the rights to require a GMAT score from an applicant even if the basic conditions are met.
Meeting the minimum standards does not guarantee admission into the program.