Graduate Certificate in Business Administration
The certificate consists of five courses that are also required for MBA applicants. Students who complete the certificate will also be eligible to begin the MBA program as long as they meet the admission requirements.
"This certificate is appropriate for working professionals who may not be interested in pursuing the MBA, but for whom graduate certification in business would enhance their career potential," according to Dr. Nancy Ovitsky, MCLA business professor.
The program is designed to offer two classes a semester, but taking one class at a time. Classes will meet in person every other Saturday, from 9 a.m. to 4 p.m.
Please contact The Office of Admission at 413-662-5410 for details in regards to registering for the Fall term.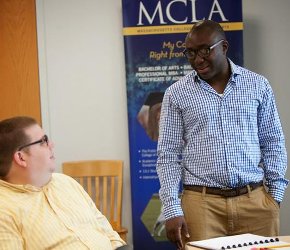 Fall
            MBA 602    Management
            MBA 601    Economic Theory
Spring
            MBA 606    Statistics for Managers
            MBA 604    Marketing
Summer    
             MBA 608    Accounting
             (5 Courses Totaling 15 Credits)