Master of Business Administration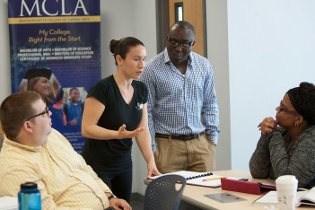 MCLA's Master of Business Administration program offers a broad-based, multidisciplinary education that combines the strengths of our business faculty at the doctoral and master's levels with those of practicing managers actively involved in day-to-day decision making in the field.
This is an accelerated program requiring 45 credits of graduate business courses. Credit waivers may be available for those students who already possess an undergraduate business degree. Courses include a blend of classroom experience and practical, hands-on fieldwork. In addition, the program offers diverse academic programming and provides a high return on investment.
What To Expect
Designed as a part-time program to meet the needs of the working adult learner, most of the courses will meet through a combination of online and face-to-face instruction. Students will take one course at a time for the duration of the program. 
The program meets in a cohort model, which provides the support and motivation of a cohesive team with a shared set of goals. Students will be strongly connected to the program, to faculty, and to their fellow participants.
Student Testimonials 

"The MBA gave me the credentials and professional designation I needed to progress to the next step. It definitely was a big plus during salary negotiations," Darrell Colvin '15

"Years after receiving my bachelor's degree and having a family, I knew it was time to focus on my own goals and advance my career. Based on my positive experiences with the MBA professors and the challenging course content, it was well worth the wait."
-Kim Corey, Community Relations Director, Fillmore Pond
Information Session at Dottie's Coffee Lounge in Pittsfield
On Friday, February 2nd MCLA will be hosting a Lunch & Learn information session about the MBA program.  Stop in to Dottie's Coffee Lounge between 11:30am - 1:00pm to meet and talk with faculty and staff to learn more about opportunities to start the MBA program for fall 2018.
Learn About the MBA Program
The video is of a Facebook Live Information Session for students nterested in the MBA program at MCLA. This session includes a program overview, admission information, timeline, and student/faculty testimonials.