Master of Business Administration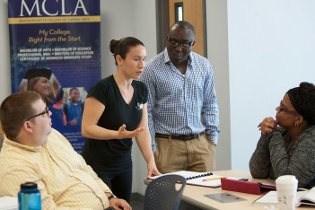 MCLA's Master of Business Administration program offers a broad-based, multidisciplinary education that combines the strengths of our business faculty at the doctoral and master's levels with those of practicing managers actively involved in day-to-day decision making in the field.
This is an accelerated program requiring 45 credits of graduate business courses. Credit waivers may be available for those students who already possess an undergraduate business degree. Courses include a blend of classroom experience and practical, hands-on fieldwork. In addition, the program offers diverse academic programming and provides a high return on investment.
What To Expect
Designed as a part-time program to meet the needs of the working adult learner, most of the courses will meet through a combination of online and face-to-face instruction. Students will take one course at a time for the duration of the program. 
The program meets in a cohort model, which provides the support and motivation of a cohesive team with a shared set of goals. Students will be strongly connected to the program, to faculty, and to their fellow participants.
Student Testimonials 

 "Years after receiving my bachelor's degree and having a family, I knew it was time to focus on my own goals and advance my career. Based on my positive experiences with the MBA professors and the challenging course content, it was well worth the wait."
-Kim Corey, Community Relations Director, Fillmore Pond 
 "As a certified public accountant, earning the MBA degree is essential to my career. An MBA and CPA will be a powerhouse combination that can take me where I want to be! I expect the MBA will help me help my clients further, while the ability to get face time with my instructors, work around a full-time job and not have to commute long distances are incredibly valuable to me. Additionally, I am very excited to be working closely with other area professionals and expect to learn as much, or more from them as my instructors. The structure will foster the building of important relationships that will be invaluable in the future."
-Tara Ferriter, Renee & Jacobs CPA firm
Program News
Any graduate of MCLA's PMBA program may request a diploma bearing the program's updated name, Master of Business Administration, before Friday, May 20, 2016. Please contact the Registrar at 413-662-5216 or registrar@mcla.edu with your request and include your full name, graduation date, and MCLA ID number.