MCLA Celebrates First Group of Students to Complete PMBA Program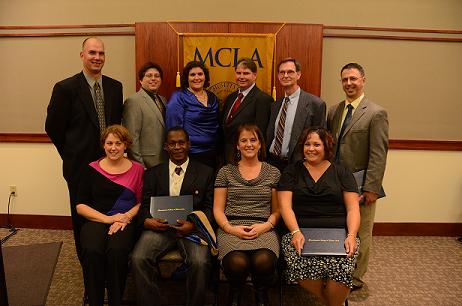 NORTH ADAMS, MASS. - Massachusetts College of Liberal Arts (MCLA) on Friday, Oct. 19, 2012, celebrated the first graduating class of the College's Professional Master's of Business Administration (PMBA). This first cohort of 10 students successfully completed the program on Aug. 31.
Each student provided a brief presentation on his or her capstone project before they received their diploma and master's hood, according to Nancy Ovitsky, Ph.D., a professor in MCLA's Department of Business Administration and Economics.
"We are so proud of this first group graduating from our Professional MBA program," Ovitsky said.  "They quickly bonded into a team of professionals who challenged each other, and us, to meet high standards. Most will stay right here in Berkshire County and make meaningful and important contributions to our communities and economy."
Most of the 10 students - from the communities of Adams, North Adams, Lanesborough, Pittsfield and Williamstown, Mass., as well as from Bennington, Vt., - maintained fulltime jobs while they completed the program, Ovitsky said.
Introduced in spring 2011, MCLA's Professional MBA program offers a blend of classroom experience and practical, hands-on fieldwork in a cohort model of academic instruction. The second cohort will graduate in May 2012; a third cohort of 20 PMBA students began the program in September.
According to Monica Joslin, dean of academic affairs at MCLA, "It is so rewarding to see that the same number of students that completed the first course in the program now have completed all the graduation requirements for the Professional MBA program. This is a highly accomplished class."
Visiting professor Margery Steinberg, Ph.D., congratulated the first class. "They are a dedicated, capable and accomplished group of professionals, who adapted well to the hybrid learning format. It has been my great pleasure to work with them."