The Jessica Park Project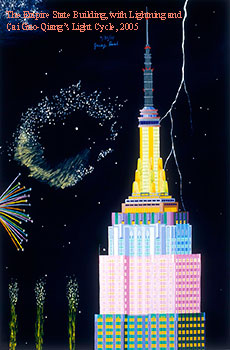 The Jessica Park Project at Massachusetts College of Liberal Arts is a multiyear educational endeavor to study and promote the art of Jessica Park.  Park is an internationally renowned artist with autism who lives in Williamstown, Massachusetts.  She is largely self-taught, but has benefited from the intervention of several art teachers and from the support and guidance of her father, David Park, and mother Clara Claiborne Park, who wrote two books about her exceptional daughter: The Siege (Little, Brown 1995 edition) and Exiting Nirvana (Little, Brown 2001).
To date the Jessica Park Project has produced five exhibitions involving Jessica's work.  A traveling show, The Art and Life of Jessica Park, that premiered in 2008, has been displayed at a number of colleges and universities in the Midwest and New England.  In 2012 an exhibition, Visions from the Edge: The Artists of Pure Vision, included Jessica Park along with ten other artists from the New York Studio/Gallery Pure Vision Arts.  

In 2008 the Jessica Park Project published Exploring Nirvana: The Art of Jessica Park.  Edited by Tony Gengarelly, Ph.D. and Adria A. Weatherbee this 98 page book is replete with 86 full color illustrations of Park's art.  Along with 26 catalog entries by MCLA students, the book also contains essays from experts in the fields of autism and Outsider Art.  Oliver Sacks wrote the book's foreword.  Exploring Nirvana has received critical acclaim and has been distributed through bookstores and online to national and international readers.

A World Transformed: The Art of Jessica Park (MCLA 2014) is the latest publication from the Jessica Park Project.  This 48 page, fully illustrated art biography by Tony Gengarelly with illustrations by Danielle Christensen (MCLA 2011) reveals an artist whose autism and creativity work together to create unusual and extraordinary works of art.  Written to appeal to a younger audience and to middle and high school educators, this volume seeks a broader base of readers and a deeper understanding about the social impact of artists on the autism spectrum.  Dr. Pamala Rogers, Director of the Shield Institute Pure Vision Arts Studio, who contributed the Foreword, sums up the book's intention:  Many of the artists [on the spectrum such as Jessica Park] have led amazing lives.  The sheer power and uniqueness of their expression adds greatly to our humanity and helps society advance by breaking down negative stereotypes and misperceptions about people with autism and other disabilities.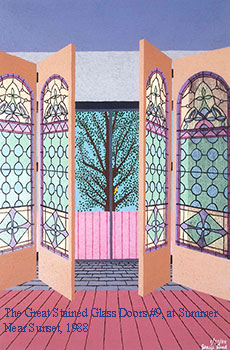 This year another exhibition sponsored by The Jessica Park Project, Inside the Outside:  Reconsidering Our Views about Art, at MCLA Gallery51, February 27-March 23, 2014, celebrated the publication of A World Transformed with a display of diverse artwork from self-taught and outsider artists, professional artists and art educators.  In concert with the exhibition, the Project is sponsored two Evenings of Discussion at MCLA Gallery51.  On March 18 a Discussion on "Art and Biography" was introduced by Jamie Franklin, Curator at the Bennington Museum. On March 20 a Discussion on "Art Education and the Education" of the Artist was facilitated by Ilene Spiewak, artist, art therapist and teacher representing the College Internship Program in Lee, Massachusetts. During the summer and fall of 2014, The Jessica Park Project partnered with the Brattleboro Museum and Art Center to produce an exhibition of 30 original artworks by Jessica Park. The exhibition was well received and has allowed the Project to make a connection with a very significant art community in Southeastern Vermont.

The Jessica Park Project continues to expand its focus.  With Jessica Park's remarkable life and art as its model, the Project not only supports research about and highlights other artists with disabilities, but also explores marginalized community-based art such as Contemporary Folk and Native American art.  Project programs are also reaching out to the local community (Good Purpose Gallery and the College Internship Program, in Lee MA; Community Access to the Arts, in Great Barrington MA; the Bennington Museum, in Bennington VT; the Brattleboro Museum and Art Center, in Brattleboro VT) and interfacing with organizations such as Pure Vision Arts in New York, the Groden Center in Providence, RI, and the Folk Art Society of America, whose missions embrace the creation and exhibition of Outsider Art.



The Jessica Park Project
Massachusetts College of Liberal Arts
www.mcla.edu/JessicaPark/
Project Director:  Tony Gengarelly, Ph.D., Professor Emeritus MCLA
Contact: a.gengarelly@mcla.edu