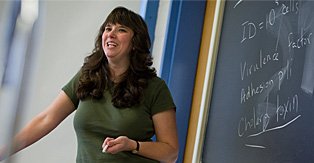 Dr. Ann Billetz
Professor, Biology


Special Project/Activities
I am an honorary member and Faculty Representative of the First Year Honor Society, Alpha Lambda Delta and serve as a committee member on the Institutional Review Board and Undergraduate Research Advisory Board. I also serve as the Advisor for the Biology Club.
Research/Creative Interests
My research focuses on the endosymbiont bacteria of sea anemones. Many of these bacteria can provide beneficial functions for their host organisms, for example by producing nutrients, antibiotics or other chemical defenses. I am working with students to isolate and identify anemone-associated bacteria, then to explore their biological functions.
Publications
Munsell, B, Billetz AC (2015) Disease and Perception: An Examination of Public Health and Immigration in a New England Mill Town. NCUR, Spokane, WA
Martin A, Keefner K, Billetz AC, Cohen M (2014) Identification and Role of Endosymbiotic Bacteria in Marine Environments: An Interdisciplinary Approach to Biological Research. NCUR, Lexington, KY.