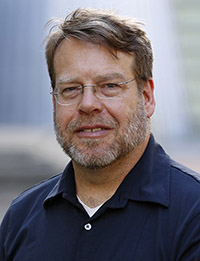 Shawn McIntosh
Assistant Professor, English/Communications
About Me
Journalism as a profession and as an industry is in a unique, disruptive period right now, and the disruptions we are seeing are likely to play themselves out over dozens of years, if not longer. Yes, it is a scary time to go into journalism—but it is also an exciting time to do so. Many of the foundational analytical, research, and writing skills you learn in journalism classes are easily applied across subject areas, including public relations, marketing, and even in other more traditional academic subjects.
In this new media environment you will not get a job because you got an A in a particular class while at MCLA. You will get a job because you can demonstrate to an employer that you can think clearly and produce media content—whether it is writing, video, audio, or multimedia—that is engaging and powerful for its intended audience. In my classes I want to give you the practical skills that you will need in this ever-changing media environment, but even more importantly the cognitive skills to analyze and adapt to changes that will inevitably take place in the communications professions. In this way, my classes combine both theoretical concepts, where relevant, and hands-on techniques by which to create media in the most relevant medium.
I expect my students to be active and engaged in class and with their projects and to share their learning with the class. I have found in my teaching that a shared, open and networked approach to learning has had the greatest effect in creating an exciting and fun learning environment.
Research/Creative Interests
I am interested in studying how digital and social media have disrupted journalism and how journalism as a profession is responding to the challenges it faces from the perspectives of production, business models, and its role in a democratic society. I am also interested in looking at how strategic communications can be used for social change, especially in development contexts.
Publications
J. Pavlik & S. McIntosh (2016). Converging Media: A New Introduction to Mass Communication, 5th ed. NY: Oxford University Press.
S. McIntosh & M. Leverette (2008). Zombie Culture: Autopsies of the Living Dead. Lanham, MD: Scarecrow Press.
S. McIntosh (2006). "Six Shooters and the Fourth Estate: A.W. Merrick and Deadwood's Information Society," in Reading Deadwood: A Western to Swear By, ed. David Lavery. NY. I.B. Tauris.
Talks and Presentations
What's In a Name? Making a Case for Collaborative Journalism, AEJMC Annual Conference, 2014
https://www.academia.edu/8659609/What_s_In_a_Name_Making_a_Case_for_Collaborative_Journalism
Consuming Zombies: Analyzing the Commodification of a Horror Archetype, Invasion Montreal, July 2012
https://www.academia.edu/8659656/Consuming_Zombies_Analyzing_the_Commodification_of_a_Horror_Archetype
Strategic Communications and its Best Practices in a Network Society, Corporate Communication in Social Networks Conference, Santiago, Chile, August 2012