Health Sciences Major
Sports Medicine Concentration
The Sports Medicine concentration includes standard pre-requisite courses for advanced study in athletic training or other fields related to sports medicine. After completing required coursework and other admission requirements, students can enter M.S. programs in Athletic Training, Exercise Science, Kinesiology, or other programs in a student's area of interest.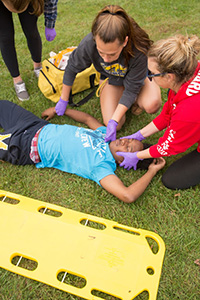 Curriculum
BIOL 101 or HLTH 195 Seminar for Entering Majors (1 cr)
BIOL 150 Introduction to Biology I: Cells (4 cr)
BIOL 240 Genetics (4 cr)
BIOL 250 Nutrition (3 cr)
BIOL 320 Microbiology (4 cr)
BIOL 330 Seminar (1 cr)
BIOL 342 Anatomy & Physiology I (4 cr)
BIOL 343 Anatomy & Physiology II (4 cr)
BIOL 440 Exercise Physiology (4 cr)
BIOL 484 Biomechanics (3 cr)
CHEM 150 Introduction to Chemistry I (4 cr)
CHEM 152 Introduction to Chemistry II (4 cr)
HLTH 100 Clinical Observation (1 cr)
HLTH 210 Human Growth and Development (3 cr)
MATH 232 Statistics (3 cr)
PHYS 131 General Physics I (4 cr)
PSYC 100 Introduction to Psychology (3 cr)
As electives, students can also take relevant courses such as ATTR 321 Lower Body Assessment, ATTR 322 Upper Body Assessment, ATTR 337 Therapeutic Modalities, and ATTR 338 Therapeutic Exercise.
MCLA in 4

A sample 4-year plan showing a possible sequence of courses in this concentration.
Internships & Professional Experiences
Students should observe athletic trainers or other professionals, or do an internship combining observation with an academic project. Athletic trainers practice at MCLA as well as at high schools in the surrounding area.
Application test
Programs in Athletic Training and Exercise Science may require the GRE. Study materials for this examination are provided in the Biology department.
Advising
A faculty advisor will meet with each student at least once per semester, and Information about pre-requisites for athletic training, exercise science programs, specific internship and observation sites, research opportunities, upcoming courses, and other topics is provided to enrolled students on the Biology Department's Canvas page.
Career outcomes
MCLA graduates have successfully enrolled in graduate programs at Seton Hall University, the University of Nevada – Las Vegas and other institutions.