Dr. David Cupery
Assistant Professor, Political Science and Public Policy
About Me
I moved to the beautiful Berkshires and joined the MCLA community in 2015 after completing a Ph.D. in political science at the University of Colorado.
I feel most at home in the classroom. This makes sense as my experiences as an undergraduate at a small liberal arts college are what first made me think about pursuing a Ph.D. in Political Science. At MCLA, I teach introductory courses on comparative politics and international relations. I also offer a wide variety of upper-level courses covering everything from Latin American politics to civil war and terrorism to political and economic development. I also have the pleasure of leading MCLA's annual Model United Nations course and participation in the North American Model United Nations Conference in Toronto, Canada. More information about one of our recent trips can be found here. Overall, I am motivated to prepare our students for the demands and opportunities of an increasingly globalized world. Moreover, in addition to teaching the substantive content of each particular course, I prioritize facilitating skill development, including concise and clear written and oral communication, reading comprehension and critical thinking. My most recent syllabi are linked to my course listings on the right side of this page.
Professionally and personally, I have been heavily influenced by three-and-a-half years studying, teaching, volunteering, and exploring in Latin America. The majority of this time was spent as a Rotary Ambassadorial Scholar in Guayaquil, Ecuador. In Guayaquil, I completed a Masters degree in International Sciences and Diplomacy, taught social science courses at a local university, and was involved in many service activities, such as teaching in a low-income school and interning with a micro credit and housing non-profit.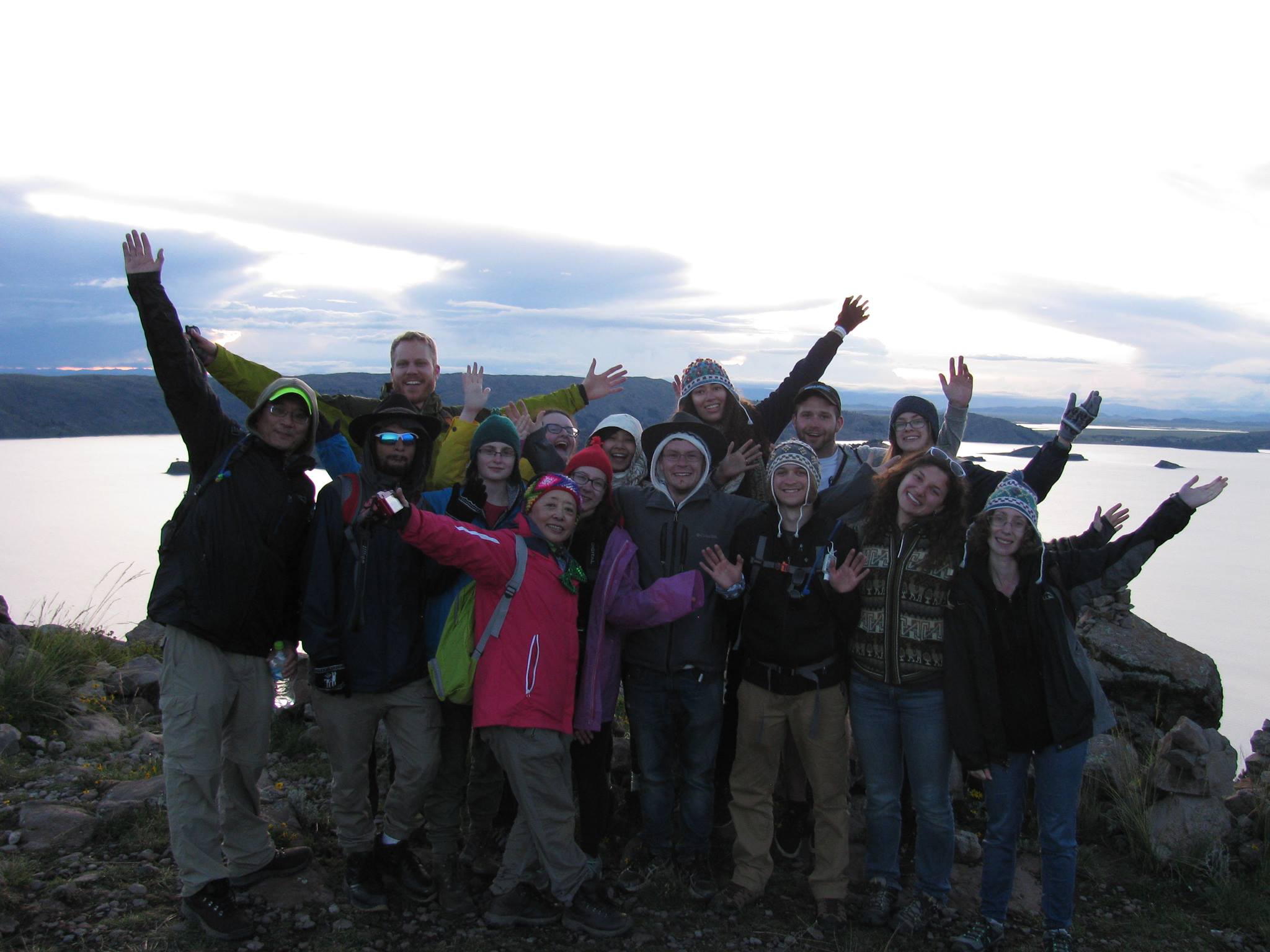 At MCLA I am working to promote more participation in internationally-oriented education and service. Each spring, I offer travel courses for Latin American destinations. These semester long courses involve 10-12 days of travel where students come face to face with the issues and places that they have been studying in the classroom. The country of study (and destination) for my 2017 travel course was Peru. 13 students studied and then came face to face with the rich history and cultural diversity of the country. Highlights included homestays with indigenous families on the island of Amantaní in Lake Titicaca and a pre-dawn hike up to the ruins of Machu Picchu.! Click here or here for more information on the Peru Travel course.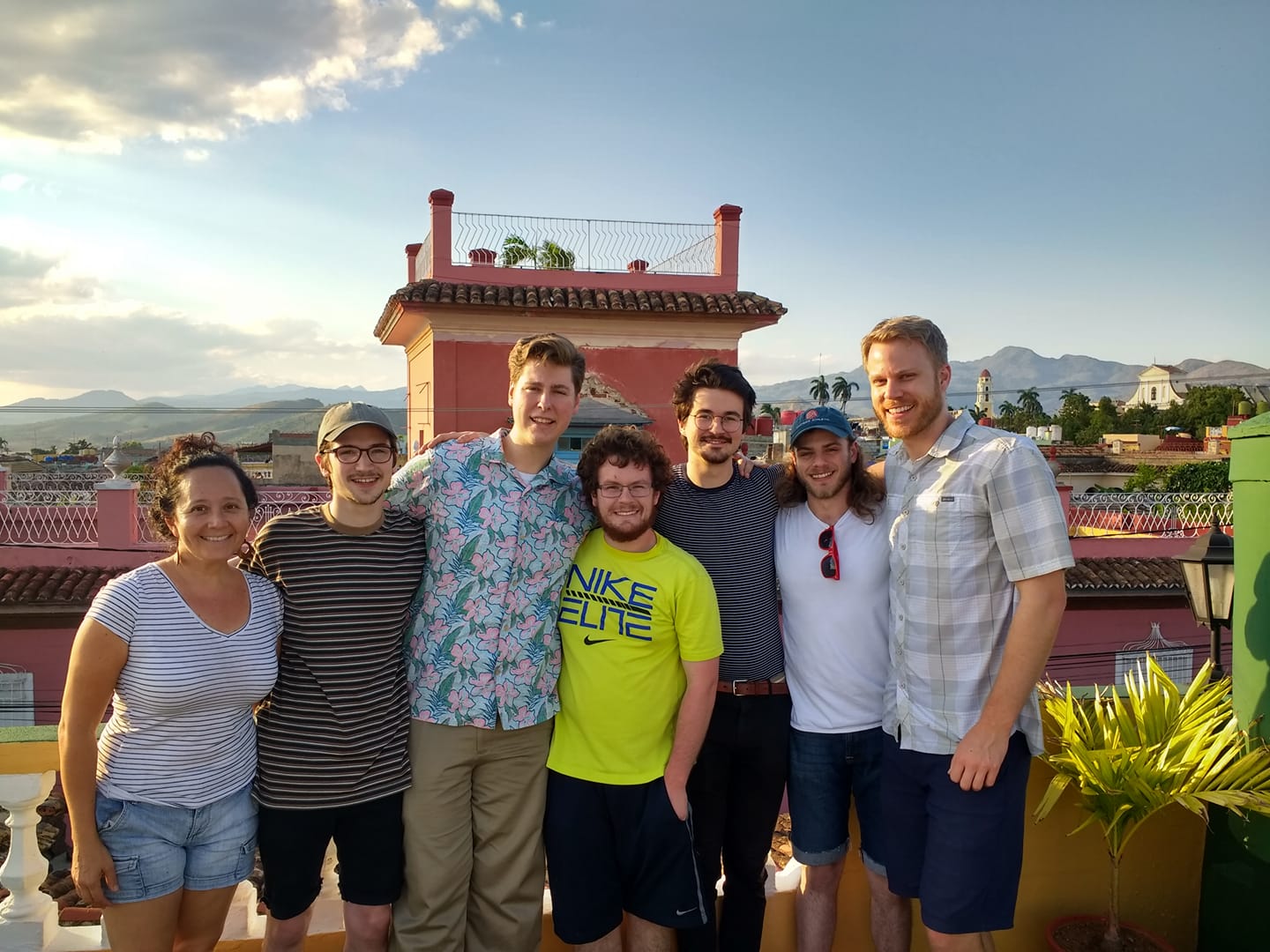 During the spring semester of 2018, 11 MCLA students joined me in studying and visiting Cuba! The course examined Cuba's controversial political and economic systems, socioeconomic issues - such as healthcare, education, and race relations - and the evolution of relations between Cuba and the United States. We started this journey in the classroom with extensive readings and discussion of these topics. Then, in Cuba we met with artists, entrepreneurs, activists and academics while also visiting sites of historical, cultural and political significance. While in Cuba we stayed in homestays rather than hotels to maximize the time we interacted with locals. Another highlight of the trip was a day at the Bay of Pigs, where a morning learning about the failed invasion was paired with an afternoon swimming in the warm, transparent waters. More information about the travel course can be found here and also here.
My 2019 travel course will be to Mexico. Our southern neighbor is home to an incredible wealth of well-preserved history and cultural diversity as well as natural beauty. However, most Americans know little about the country beyond the simplistic coverage of our mass media. In preparation for the course, I spent two weeks in Mexico during the summer of 2018 sorting out activities, logistics, hotels, etc. Doing this allows me to run the course without a third party, keeping costs to a minimum in order to make this experience accessible for more of our students. More information can be found here. 
Research/Creative Interests
My research interests lie at the intersection of comparative politics and international relations. For example, my dissertation studies Latin American public opinion and elite rhetoric towards the United States and China. In doing so, it engages the literature from areas as diverse as Latin American political history, political psychology, international political economy, and soft power. Other areas of interest include post-conflict economic development and regional integration within Latin America and other developing regions. Recently, I have begun to involve students in my research to help them develop the relevant skill sets and knowledge while I also benefit from their insights.
Outside of work my interests include hiking, travel, reading, and playing and watching soccer. I'm 'working' diligently on a somewhat superficial (yet incredibly rich and enjoyable!) goal of getting to 40 countries by age 40. Only 4 countries to go!
Publications
Cupery, David. 2016. "Yankee Go Home & The American Dream? Confronting the Puzzling Coexistence of Anti-American Elite Rhetoric and Pro-American Public Opinion in Latin America." The Latin Americanist 60(4): 473-496.
Baker, Andy, and David Cupery. 2013. "Anti-Americanism in Latin America: Economic Exchange, Foreign Policy Legacies, and Mass Attitudes toward the Colossus of the North."Latin American Research Review 48(2): 106-130
Baker, Andy, and David Cupery. 2013."Gringo Stay Here!" Americas Quarterly 7(3): 45-51.