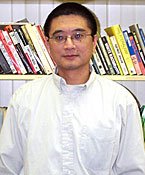 Dr. Kailai Huang
Professor, History, Political Science & Public Policy
About Me
Sharing the dramatic and the mundane history presents to us, I attempt to cultivate in students the trademark of historians: the historical thinking that explores the past through understanding the multiple causations, the context, and the interplay of change and continuity. I want students to appreciate how historical knowledge and perspectives develop our sense of identity, understanding of the present, open-mindedness, and critical skills in research and writing. In all my classes, I strive to make history provide a basic background for some different academic disciplines and transferrable analytical and communication skills.
Research/Creative Interests
My research interest is the history of US-China relations with a focus on the dynamics of trade and diplomacy. 
Publications
Huang, Kailai. "The Role of American Business in Sino-American Normalization." In Thirty Years of China-U.S. Relations: Analytical Approaches and Contemporary Issues, edited by Shujin Guo and Baogang Guo. Lanham, Md.: Lexington Books, 2010.