Dr. Paul Nnodim
Professor, Philosophy
About Me
Professor Paul Nnodim joined the MCLA faculty in 2004 from Johannes Gutenberg University Mainz, Germany. He is very passionate about teaching. His research interests include contemporary theories of justice, continental philosophy,corporate social responsibility (CSR), and most recently, self-identity in African philosophy.  Prof. Nnodim is the advisor of the MCLA Logic Club.
Research/Creative Interests
Theories of Justice, Continental Philosophy, African Philosophy, and Corporate Social Responsibility (CSR).
Awards
2010-2011: The American Philosophical Association (APA) -Edinburgh Fellowship Award - The Institute for Advanced Studies in the Humanities (IASH) at The University of Edinburgh, Scotland. APA-Edinburgh Fellow
2011: Invited Senior Academic Visitor - Dept. of Philosophy, The University of Oxford, England - Trinity Term 2011
2007: International award for excellence in interdisciplinary social sciences by The International Journal of Interdisciplinary Social Sciences. 
2005/2006: Massachusetts College of Liberal Arts (MCLA) faculty research award.
2000/2001/2002: Research scholarship award (LGFG) of the State Government of Rhineland-Palatinate, Germany. 
Publications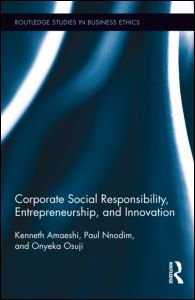 Corporate Social Responsibility, Entrepreneurship, and Innovation
New York: Routledge, Oct. 12, 2012
2. Rawls' Theorie der Gerechtigkeit als angemessene moralische Grundlage für eine liberale demokratische Gesellschaft im globalen Kontext.
Oberhausen (Germany): Athena Verlag, 2004
English Translation of title:
Rawls' theory of justice as an appropriate moral basis for the global institutionalization of liberal democratic order. Oberhausen (Germany): Athena Verlag. Paperback Online
3. Beyond Justice as Fairness (2013/2014)
View Paul Nnodim's Academic Citation Graph
4. The Tortoise and the Birds. Cherry Hill, New Jersey: Nefu Books (Sept. 2010) -illustrations by Yvonne Pierotti.
5. The Tortoise and the Seven Magical Creatures (The Adventure Series). Piraeus Books (May 2011) - illustrations by Yvonne Pierotti.
Selected Scholarly Articles:
2004: "Public Reason as a Form of Normative and Political Justification". South African Journal of Philosophy.
2005: "Rawls' Theorie der Globalen Gerechtigkeit und die Notwendigkeit einer rueckwirkenden kulturellen Legitimation fuer Menschenrechte". In: Gerechtigkeit: Auf der Suche nach einem Gleichgewicht. Neumaier, Sedmak und Zichy. Frankfurt a. M: Ontos Verlag, 209-225.
2006: "Global Justice and the Absence of Universal Morality: Rawlsian Perspectives on International Relations and Human Rights" The Mind's Eye.
2007: (with Bongo Adi & Kenneth Amaeshi) "Revisiting Rational Choice and Rationality Debate in the Social Sciences". The International Journal of Interdisciplinary Social Sciences.
2007: (with Kenneth Amaeshi & Onyeka K. Osuji) "Corporate Control and Accountability in supply chains of Multinational Corporations: Clarifications and Managerial Implications". International Centre for Corporate Social Responsibility (ICCSR), Nottingham University Business School, England.
2007: "Husserl and Heidegger on the Meaning of Phenomenology". Thesis XII
2008: (with Kenneth Amaeshi & Onyeka K. Osuji) "Corporate Social Responsibility in Supply Chains". Journal of Business Ethics.
Recent Newspaper Articles:
2011: "Abuja, Omelas, and the Burden of Denial" - Sahara Reporters
2011: "Veil of Ignorance ..." - Point Blank News