Careers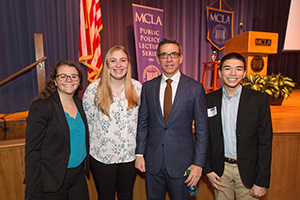 Graduating with a degree in Political Science means that you not only understand how politics and government work at the local, national, and international levels, but that you possess skills in areas such as research, analysis, problem solving, and written and spoken communication. These abilities prepare you for a career or graduate study in a wide range of fields.
Employers want to hire candidates who understand complex ideas, who can see the big picture and make good decisions, and who can be trusted to complete projects, and these are the capabilities that are emphasized inside and outside of the classroom in the political science and public policy program. You might be researching global development policy or the role of the media in state elections, but the skills you are building are what employers want you to bring to their companies.
Your development in the political science and public policy program at MCLA prepares you to work in many areas. Government agencies, consulting firms, and banks are just a few examples. A career in law is also a path chosen by many majors, after completing law school. You can find more about our Pre-Law program here.
Our senior course, Career and ePortfolio Workshop, supports seniors as they consider potential career fields and then craft resumes and cover letters so that as they graduate they have strong application materials and understand strategies for successfully finding employment.