Undergraduate Research Conference (URC)
The annual Undergraduate Research Conference, held each year in April, is a campus-wide celebration of the talent and dedication of MCLA students. Part of the college's Undergraduate Research Programs, the conference encompasses a broad definition of "research," welcoming undergraduate scholarship and creative activity in all fields of study. Depending on the discipline, students display their work as a poster, an oral presentation, or a performance.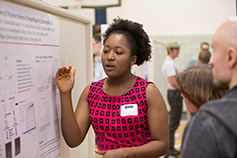 The Undergraduate Research Conference (URC) represents an ideal forum for demonstrating the value of active participation in a liberal arts education. Students work with a faculty sponsor to produce outstanding academic work and then present to an audience of their peers, faculty and staff, and members of the community. 
These experiences are invaluable in preparing MCLA students for graduate school and career possibilities. An additional link with life after college is provided by the keynote address, given over lunch by a recent MCLA alumnus who has achieved success and can provide valuable insights on the importance of opportunities such as the conference. 
---
For more information, click on the links on this page, contact Dr. Jenna Sciuto, Chair of Undergraduate Research or Dr. Anna Jaysane-Darr, Associate Chair of Undergraduate Research.