Communications Alumna Takes on NYC
02/14/18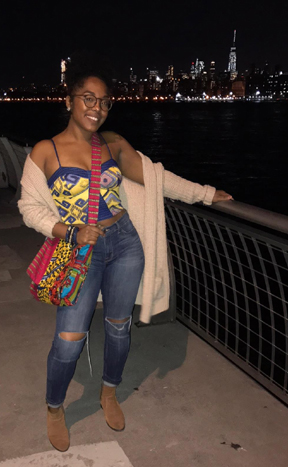 On her way to achieve her goal of a career in television broadcasting, Shadea Blyther '16 headed to New York City, N.Y., where she works as a writer and an editor for Bronze Magazine. The online publication celebrates, empowers, and inspires women of color through positive content.
"In broadcast television, you need to be able to write your own stories, and to report from the scene," said Blyther, who grew up in Massachusetts. "I'm enhancing my skills by writing about what I'm interested in. There are tons of opportunities in New York City, and I wanted to see what I could do here, on my own."
In addition to the free online site, Blyther writes for a digital issue of the publication that readers pay for, to have access to additional articles.
Earlier this month, she interviewed "the fastest woman alive," American sprinter and three-time Olympic medalist Carmelita Jeter. "I was able to hear her story, learn what she's doing now, and share it. Hers is the type of story that really inspires me. My passion really lies in interviewing."
Her position began with an internship last September. Now, Blyther writes about various topics, which include finance, relationships, health and beauty, as well as trending news. She frequently gives tips and advice as she writes about what's important to her.
"It's what I want to read about. I want to inspire the next woman who reads it. I like to research what works, and put it out there in an article," she explained. "I also get to go to conferences and events. I receive free beauty products to review. It's really cool."
Originally from Worcester, Mass., at MCLA, Blyther was an English/communications major, with a minor in theatre. She says the College helped her to find the right career. "Throughout my four years at MCLA, I can genuinely say that I was prepared for what I want to do," she said.
Blyther recalled how one professor asked her to take two minutes to prepare to give a broadcast report from the scene of a story. "After that two-minute segment, I had 30 seconds to run and be the director. Two minutes later, I was behind the camera. I really like hands-on learning."
Through the wide variety of courses she took at MCLA, Blyther learned not only what areas of broadcast and media work she liked and was best at, but also the types of communications careers she might most enjoy. Similarly, a range of English classes she was enrolled in at MCLA – from poetry to literature – served to hone her writing skills.
In addition to her writing work, Blyther explores behind-the-scenes filming opportunities. "I want to be proficient on both sides of the camera. I go to networks such as Viacom, Paramount Pictures, and CBS. I attend conferences and meetings, and hear from people who are where I want to be."
"I feel like this is the start. I am happy where I am for now, and will keep moving forward." Blyther said. "I'm not going to stop until I am where I want to be. I am really excited for what is to come."
To read Bronze Magazine and check out some of Blyther's articles, go to www.bronzemagonline.com.