Junior to Have Byline in Law Magazine
02/21/18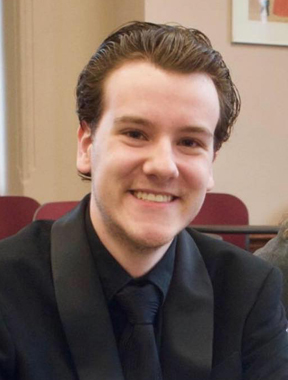 Interdisciplinary studies major Justin Therrien '19 of Tyngsboro, Mass., recently took another step toward his goal of earning a law degree. Soon, his paper, titled "Withdrawal from the Paris Climate Accords" will be published in the University of Chicago Undergraduate Law Magazine.
One of Therrien's instructors, Williamstown attorney Phil McKnight, just happens to be an alumnus of University of Chicago's law school. And, as Therrien's environmental law instructor, McKnight encouraged him to submit his paper to the magazine.
The paper analyzes the alliance of smaller governments, businesses, and other bodies that, despite the federal government's withdrawal, are committed to supporting the Paris Climate Accords.
It was Therrien's first exposure to writing a scholarly work that was not a class assignment. "In that way, it is a different type of writing, because although I don't have to worry about it being graded, it's going into a publication. That puts a very high level of importance on the quality of the work," he said.
Therrien wishes to focus on environmental law, because, "I have been very interested in the environment for a long time, and anything that has to do with protecting it," he explained.
Majoring in interdisciplinary studies is helping Therrien pursue his career goal in part because the interdisciplinary studies program teaches students how to examine various situations from several different perspectives. "In law, this is important," he said.
An additional benefit of the major is that it offers a broad spectrum of classes that make his education more diversified, Therrien said. "Simply going for a pre-law program would not have offered that. My class with Professor McKnight was one of the few classes that strictly was based on law; specifically, environmental law."
He continued, "Academically, I have made it a point to take classes that do not follow one track. With interdisciplinary studies, I have the opportunity to experience several disciplines while keeping my focus on law."
At MCLA, Therrien also serves as the vice president of the Good Vibes yoga club. This role, he explained, has provided him with experience on how to work with others in a leadership position, in a variety of ways. For example, previous to this position, "I had no idea how club budgeting worked or how events were planned."
For Therrien, the professors who teach here are the best part of MCLA: "I have always allowed professors to have as much impact on me as possible, either in class or outside of class. The school can take pride in the fact that it offers such a varied education."
He arrived at his decision to attend MCLA during his first visit to campus. "Something that stuck out to me was a professor saying that the school prepares you for jobs that do not exist yet. I always look forward to the future, so this really resonated with me," Therrien said.
In addition to its affordable price, "The College offers a stellar education from some very skilled people," he added. And, "The area is simply beautiful."