Sophomore: MCLA Inspired a Passion for Politics
01/03/18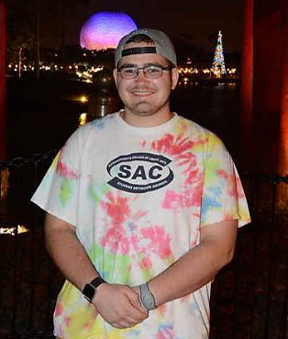 After some political science classes he took as a first year student inspired Joseph Bellas '20 of Colonie, N.Y., to become involved in politics, the history major decided to add a second major in political science. Now he is considering a career as a state senator or a member of the U.S. Congress, with the ultimate goal of being elected as President of the United States.
Recently, Bellas was elected as president of MCLA's Political Science Club. "I've been involved with the political science club for a while," he said. "I started off as the treasurer, and then was elected to be the vice president for this past semester. I decided to become really involved in the club as president because I have a lot of plans for political science club, and I felt like becoming president was the best thing for me to do, to help the club become even better." 
Students who are members of this club discuss a variety of different political topics, and have numerous opportunities to become involved in local and campus politics. This includes volunteer service on various campaigns. Bellas believes this service will be a huge benefit to his future career. "It gives me insight into how to campaign efficiently, and allows me to connect with other people who might be able to help me, later on," he explained.
Also a member of the Student Activities Council (SAC), Bellas serves as the Saturday Night Spotlight Chair – the person who plans and produces different programs every Saturday night. "My main goal in SAC is to get people up and out of their dorms on the weekend, and give them something that is fun and exciting to come to, and have a good time with their friends."
He continued, "SAC puts on a bunch of different events throughout the year for the students, and I wanted to help." As an added bonus, the position enhances his MCLA experience because of the different people he gets to know, whom he ordinarily would not come in contact with. As a result, Bellas not only improved his communication skills, but formed strong friendships, in the process.
According to Bellas, "My experience [at MCLA] has been really great!"
"I've had loads of great professors – from both the political science and history departments – who have helped me to better understand certain topics, such as world history and international relations," he said. "I'm also involved in MCLA's chapter of College Republicans, so, when I ask a question, I'm usually looking at things from a different perspective than my classmates, and it helps me to understand both sides of the issues that are talked about in class."
Although Bellas chose MCLA in part due to the discounted tuition rates for New York residents, "I also decided to attend because on my first visit to the campus, I fell in love with it. Plus, being the youngest in my family, I knew I wanted to go to college away from home, but not too far. MCLA is only 40 miles away from where I live, so it's a perfect distance. And, I love to hike, so being in the middle of the Berkshires was a huge factor that played into my decision, as well."
"I would definitely recommend the College to others, as there are a lot of unique opportunities here, and many ways to get involved," Bellas said.