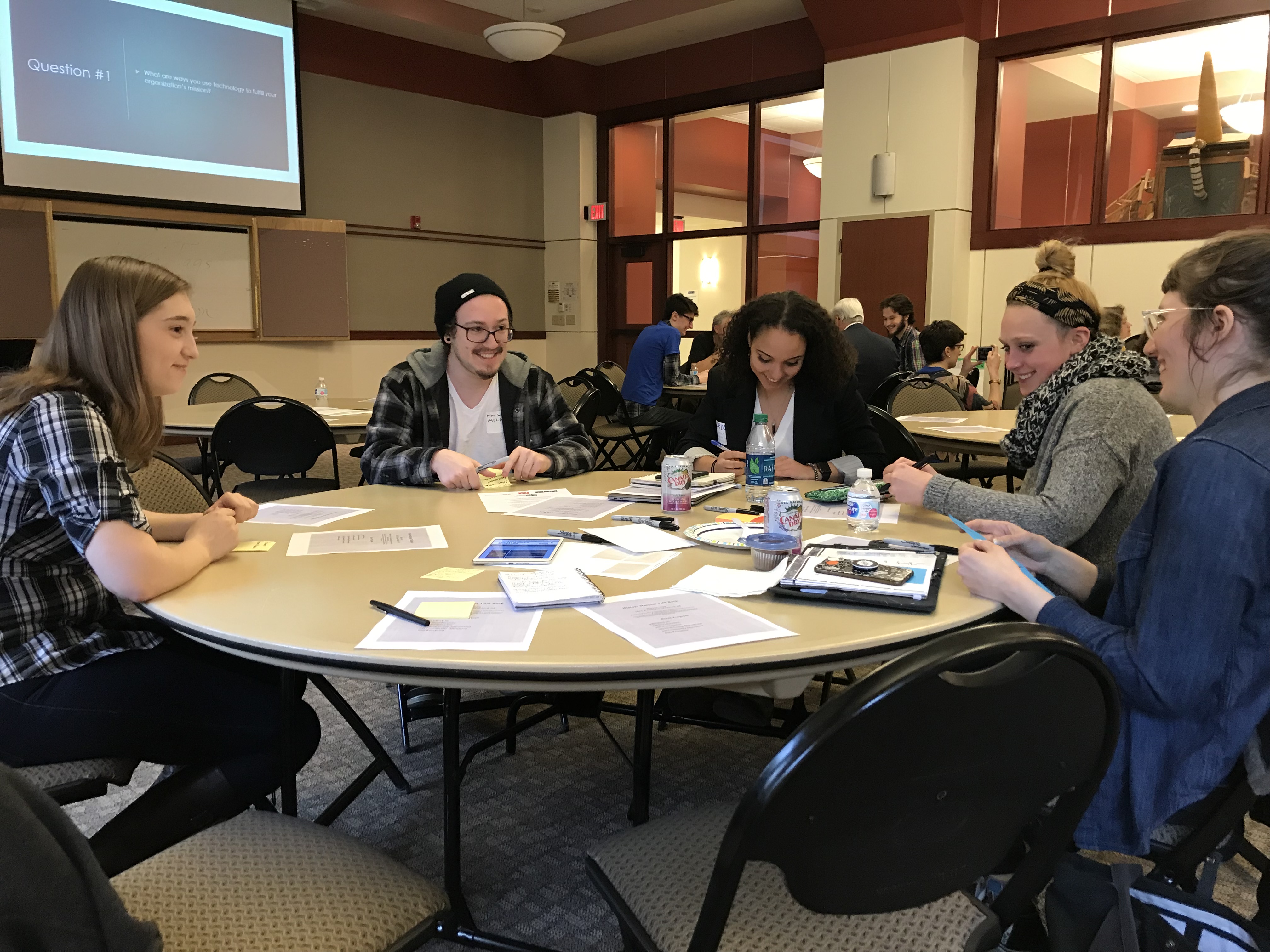 Students in Assistant Prof. Amanda Laury Kleintop's Public History class discuss the importance of history with community members and MCLA faculty and staff during a History Harvest talkback May 1.
What do you do with History Once it's Harvested? 
05/09/19
Miss Agnes Scully was a bit of an enigma. A native of Troy, N.Y., she spent summers at a house on Windsor Lake in North Adams, and seems to have been regularly entertained by a series of gentleman callers—at least, that's what MCLA students in Assistant Professor Amanda Laury Kleintop's Introduction to Public History class have deduced by studying Scully's life through her correspondence.
Those letters, dropped off anonymously during one of Historic North Adams' History Harvest events, just scratch the surface of the ephemera collected and categorized through a $15,000 grant from Mass Humanities. 
Since receiving the grant last year, history professors Kleintop and Ely Janis, along with student volunteers and the North Adams Public Library, the North Adams Historical Society, and Mass MoCA, have held History Harvest events aimed to collect and create an open, digital archive of artifacts gathered from the North Adams community.
They've launched a Historic North Adams app (also viewable at www.historicnorthadams.com), which provides a curated look into North Adams History, as well as the North Adams Archives (www.northadamsarchives.com), an open digital archive that includes 300+ items to peruse, plus some collections and exhibits created by students, including one on Miss Scully. Kleintop will be speaking about the North Adams Archives at the January 2020 American Historical Association conference in New York City.
Kleintop's students presented their work at MCLA's Undergraduate Research Conference in April; other exhibits included an examination of North Adams' evolution into a cultural destination and a look into the connections between families on Cherry Street in the late 1800s.
The students also hosted a May 1 talkback, inviting members of the North Adams and MCLA community to brainstorm additional ways to use the historical information they've collected. (Digital plugins like a map of where all Miss Scully's letters came from are already being developed.) At top of mind at the talkback were questions about one's responsibility to history, and about how important history can be in understanding today's world. "You have to be able to comprehend the past to understand the present," said Zoe Elwell '19.
Accessibility to history was also a concern at the talkback—and digitizing these archives, the students say, create a learning opportunity that goes further than just a neat resource for people interested in local ephemera. It creates a way for others to add their own shared history of North Adams to the archive, and aids in democratizing the process. That means more stories can be told, more objects analyzed, more conclusions presented "so you can begin to piece together a narrative of North Adams and its residents," said Madeleine McKeon '19.