Welcome from President Birge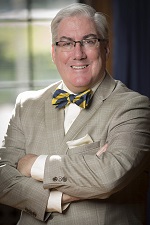 James F. Birge, Ph.D. is the 12th President of Massachusetts College of Liberal Arts (MCLA) in North Adams, Massachusetts. He has worked in higher education for more than 30 years. Before serving in executive roles at other institutions, Dr. Birge spent much of his early career in student affairs followed by work with faculty and staff to integrate community-based learning into academic course objectives.
Through his career, President Birge has worked in public and private higher education as well as with an association of academic presidents. Although always an administrator, Dr. Birge has also taught undergraduate courses in religious studies, writing, and leadership. Previously, Dr. Birge served as President of Franklin Pierce University in New Hampshire.
Since his arrival at MCLA in 2016, the College has added new majors in health science, community health education, and communications; new minors including design, dance and public history; new certificate programs in accounting and network security; and new accelerated programs such as MCLA's three-year business degree. Dr. Birge has also launched a strategic planning process to guide MCLA's work for the next five years.
As a member of the boards of directors of MASS MoCA, LEVER, Inc., 1Berkshire, and the MountainOne Bank Community Advisory Board, Dr. Birge works to build collaborations between the College and the community.
Dr. Birge holds a Ph.D. in leadership studies from Gonzaga University in Washington, an M.Ed. in guidance and counseling from Plymouth State University in New Hampshire, and a B.S. in elementary education from Westfield State University in Massachusetts.
President Birge and Lisa, his wife of 32 years, have three daughters: Caitlin, Margaret, and Siobhan.
James F. Birge, Ph.D.
President