Teaching Resources
Assessment
The Assessment Office at MCLA is a resource for all faculty, staff, and administrators who are interested in examining the work they're doing for our students to make it easier and more meaningful. We provide support and services including:
Feedback or coaching on syllabi, course descriptions, student learning outcomes, or assignments
Assignment design using the Transparency Framework
Curriculum mapping using learning outcomes
Workshop or meeting facilitation
Resources including rubrics, frameworks, and technology solutions
Strategies for authentic assessment at the assignment, course, and program level
For an overview of the assessment cycle at MCLA and related resources visit MCLA Assessment. For further information or to schedule a assessment consultation, contact Erin Milne or visit the Assessment Office (Bowman 211).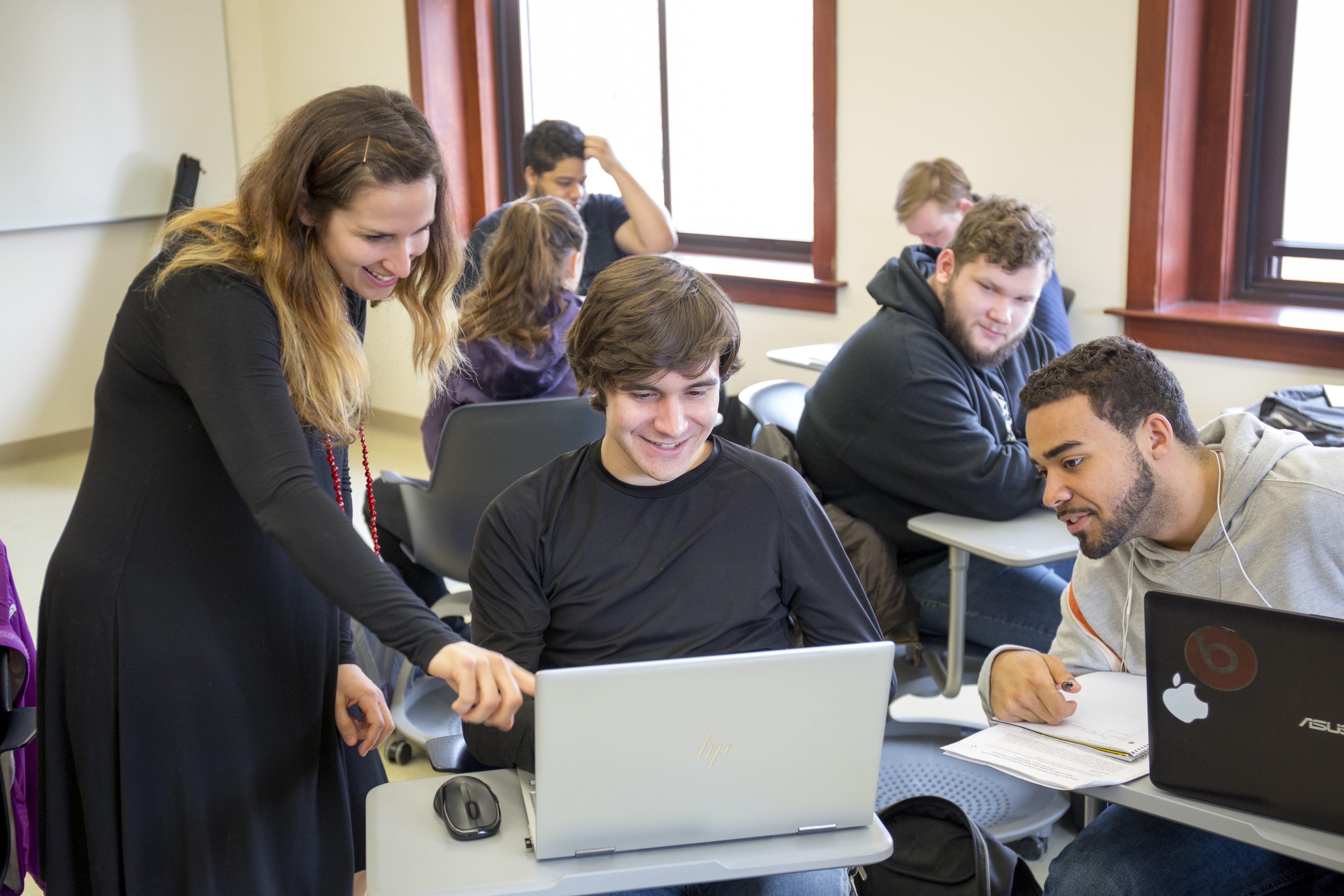 Center for Academic Technology
The Center for Academic Technology provides services and support including:
course and assignment design;
universal design and accessibility with tech;
online and hybrid certification and training;
all things Canvas, including the Canvas Course Request process;
documentation and help guides for MCLA technology;
regularly-scheduled topical workshops and webinars;
advice on digital privacy and security practices;
drop-in consulting and departmental "house calls." :)
Visit the Center for Academic Technology (Murdock 209) for resources and assistance with incorporating technology in your instruction, research, and advising.
Diversity, Equity and Inclusion
MCLA is committed to creating and maintaining an inclusive learning community. The office of the Chief Diversity Officer works with faculty, executive and administrative staff, and students to direct, implement, and oversee institutional planning on diversity, equity, and inclusion initiatives at MCLA. An important part of the role as CDO is working with academic and faculty leadership to integrate diversity, equity, and inclusion into the curriculum and faculty teaching. Two faculty members, Dr. Kerri Leyda Nicoll (Sociology, Anthropology, and Social Work) and Dr. Jenna Sciuto (English/Communications), serve as Faculty Fellows for Diversity and Inclusion. They work with the CDO to plan and implement a variety of professional development opportunities for faculty throughout the year and are available to support faculty around inclusive pedagogy, communicating across difference, and locating curricular resources.
For further DEI information and resources, please contact MCLA's Chief Diversity Officer, Christopher MacDonald-Dennis, or either of the Faculty Fellows, Kerri Leyda Nicoll and Jenna Sciuto.
Quantitative Understanding Across the Curriculum (QUAC)
The mission of QUAC at MCLA is to promote and support development of and engagement with the quantitative sciences across the curriculum at all levels, and to create an institutional culture of bravery and positivity toward numeracy.
QUAC supports faculty in all disciplines through its professional development offerings, including workshops and reading discussions. Our group works together with CSSE to develop resources to support students' academic achievement, and provides a local support network to K-12 educators in the quantitative disciplines. We also endeavor to work through the STEM Network to engage in outreach to the community.
Members of QUAC form the consulting group for the Math Drop-In Help Center, and created the Tier I Quantitative Learning Outcomes. We meet monthly to discuss these and other quantitative matters, and all are welcome to join us.
For more information please contact Erin Kiley.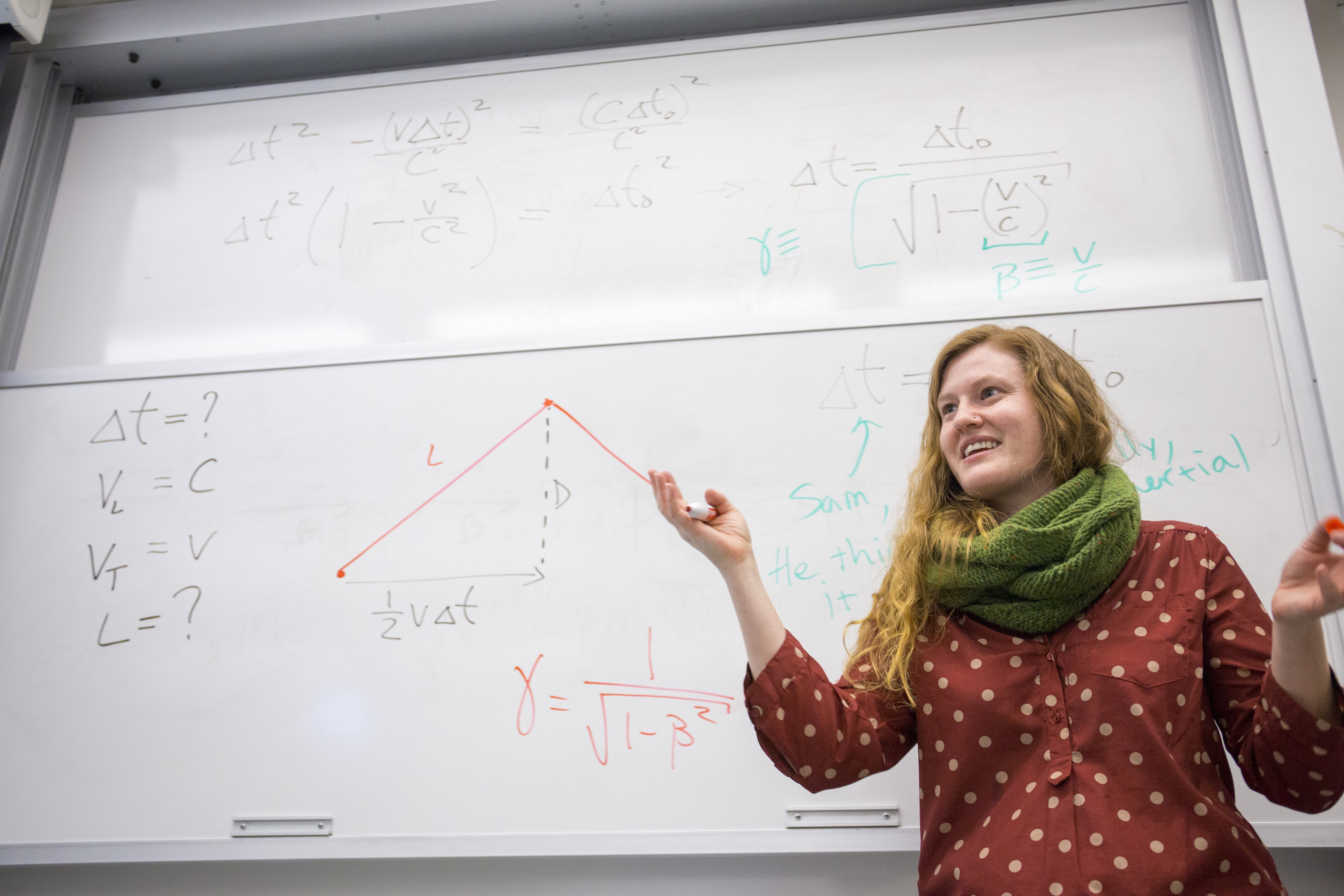 Community-Based Learning
Community-based Learning facilitates a connection between classroom learning and direct experience, establishing a context in which students may deepen their understanding of course materials through involvement in and exchange with the community by participating in agreed upon projects and services that are mutually beneficial to students and the community partner.
At MCLA, CBL has been incorporated in a wide variety of courses from nearly every department on campus. Community-based learning is utilized by faculty in many different ways. Some courses are built entirely around an ongoing CBL project, while other courses incorporate CBL for a small part of the course. Since Fall 2015, 22 faculty have included CBL in 53 courses. At least 700 students have participated, with more than 6500 hours of student work towards communities.
The CBL Team:
Engages in outreach to new faculty to introduce them to CBL as a potential pedagogy.
Meets with community partners once a semester to gain information about community needs and issues that we later communicate to interested faculty.
Sponsors a luncheon every semester for interested faculty in order to build a CBL community.
Facilitates a workshop for faculty every semester focused on course and project development, as well as best practices in CBL.
Consults with individual faculty regarding CBL course and project development.
For more information on CBL resources please contact any member of the CBL Team: Liz Hartung, Spencer Moser, or Kerri Nicoll.
Writing Across the Curriculum (WAC)
The Writing Across the Curriculum (WAC) group at MCLA, comprised of faculty from the sciences, humanities, and social sciences, believes that writing is central to the liberal arts mission of helping citizens successfully navigate complexity, diversity, and change. Writing is a transformative act, capable of changing the world and our connections to others. We support and promote writing across the curriculum and beyond, from first-year writing and the Writing Studio, to writing in the disciplines and the Core, to writing for civic and creative purposes.

The WAC group supports writing at MCLA in the following ways:
Through professional development workshops;
Through new faculty outreach;
Through individual faculty consultations;
Through participation in curriculum revision initiatives linked to First-Year Writing and the Core;
Through an interdisciplinary Canvas page devoted to resources on the teaching of writing and portable pedagogy;
Through the promotion of student-focused writing initiatives, like MCLA's Writing Studio.
To become involved with WAC, to gain access to the WAC Canvas resource page, or to schedule an individual consultation, please contact Amber Engelson.